Features
Main workflow
When you create a new file, you can immediately start drawing storyboard frames.
Enter text below each frame.
Add new frames with a keystroke.
Organize and reorder frames in an outline view with drag-and-drop.
Use color-coded overlay layers for different kinds of information, like camera motion and character motion.
Set timing for each frame either numerically or by recording durations interactively.
Move, resize, rotate, and fade layers to create simple animation within frames.
Record animation and frame timing interactively, for rapidly adding movement to your animatics.
Record or import sounds - dialogue, narration, sound effects, music, etc. Tweak and edit them simultaneously in any sound editor.
Play back your storyboard as an animatic in real time, including sounds, fade transitions and smooth camera moves.
Print your storyboard and text in a wide variety of customizable formats.
Supports large projects - feature films and longer.
Export to a Web page, sequenced images, a Windows WAVE audio file, or a standalone movie file.
Drawing
Set up by default to draw on a Base layer in black and on a Camera layer in blue.
Natural-feeling, smooth, antialiased bitmap drawing tools:

Pencil
Eraser
Quill pen (size varies with pressure)
One-pixel pen (for fine lines)
All bitmap tools are pressure-sensitive with standard pen devices, and eraser buttons are supported.
Per-stroke undo and redo.

Dynamically-editable vector tools:

Lines
Text, in any font and alignment, with easy rotation and sizing:

Filled and outlined rectangles and ellipses:

Many styles of arcing arrows:

Zoom Frame, for drawing camera moves: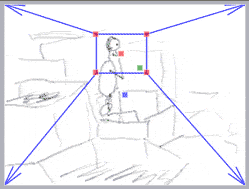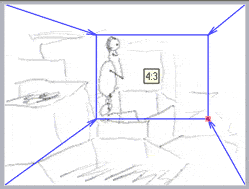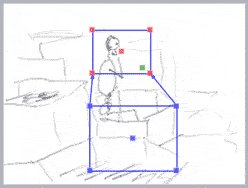 Optimized for compact frame images (320 x 240); supports any size frame.
View multiple frames at a time.
Move, resize, rotate, and shear layers with a simple manipulator.
Hide overlay layers for an entire file with one click.
Zoom to any level of magnification.
Clipboard support, both within the program and to external programs.
Easily edit layers using any external image editor.

Customize the layer set by adding and deleting spot-color and full-color layers, reordering them, nesting them, and changing their colors and names.
Mirror individual layers or an entire frame left-to-right, to see alternate composition options.
Many layer operations are supported, to ease the multi-layer workflow:

Duplicate Layer
Reset Layer Position
Bake Layer Position
Scale Layer to Fit Frame
Convert between spot color and full color
Matte-Out Color
Clear Layer
Animation and Animatics
Set frame durations numerically.
Overlap two frames to fade between them.
Record frame timing interactively and simply, in real time. Just press a key to indicate a frame transition, and optionally hold it down to indicate a fade.
Make simple animations by changing layer opacity and by moving, resizing, and rotating layers along a keyed timeline.
Record layer animation interactively in real time. Just move or fade the layer, and the motion is recorded into animation keys.
Play back your animation in real time.
Outlining
View a hierarchical outline of your story.
Include Acts, Chapters, Sequences, Scenes and Shots (as well as storyboard Frames). Or, easily customize the default section types, including powerful numbering controls. Import structure settings for convenient reuse.
Create new sections with one key.
Reorder story elements with drag-and-drop.
Files
Saves to a compact internally-compressed file format.
Import individual images or sequences from BMP, EPS, GIF, JPEG, Photoshop, PNG, Targa, TIFF, WMF, and EMF files. Full support for alpha channel transparency where supplied.
Export to AVI and to sequenced BMP, GIF, JPEG, or Targa files.
Preset sizes for working with DV (both NTSC and PAL) and for exporting non-square pixels.
Export to HTML, including both frame images and text. Supports single- and multi-page formats; format templates can be edited and customized by the user.
Save numbered backups for easy archiving.
Split out sections into separate files for fast saving and easy collaboration.
Printing
Full preview.
Streamlined printing interface - no diving through nested dialogs.
Print subsets of your story.
Print in single or multiple columns, horizontally or vertically, left-to-right or right-to-left.
Position text on any side of each frame image.
Optionally truncate long frame text to emphasize images.
Flexible frame numbering.
Flexible titles, headers, and footers.
Customize fonts.
Set styles for section headings, and control which types of content get printed.
Save and load print settings for quick use in new files.
You can also read the full documentation for more detailed feature descriptions. Or, download and try it now.